We earn a commission for products purchased through some links in this article.
11 Best Meat Boxes For A Healthy Summer
The best organic, free-range meat boxes, delivered.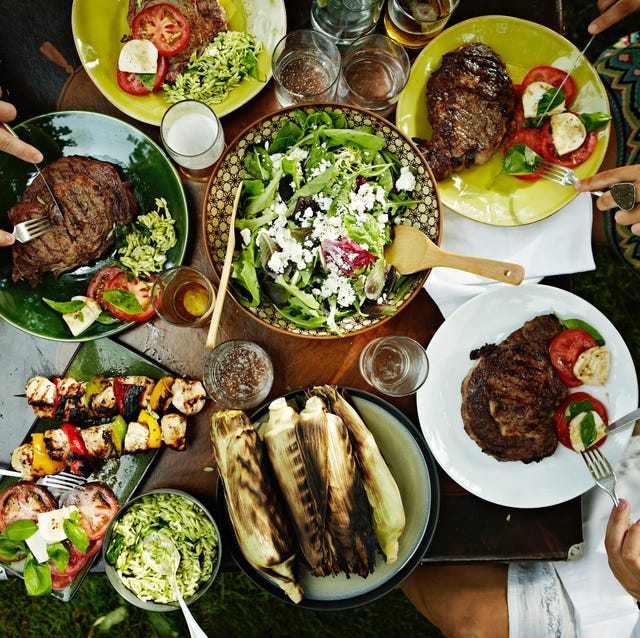 Meat (and the decision to eat it) has become an increasingly complex subject. But ethics aside, if you're a meat-eater, it's unarguably a good source of protein, containing all nine essential amino acids that are required from our diet. Ordering a meat box can be one way to ensure the quality.
If you're one of the many people following a "flexitarian" approach, you might start your day with a dairy-free smoothie, tuck into a plant-based lunch, and opt for a piece of good quality meat for dinner a couple of times a week.
With that in mind, we asked nutrition and fertility expert Ro Huntriss (@dietitianro) what meat she recommends we eat (and what we should be avoiding!) for a healthy approach this summer…
Best meat boxes 2021
What is the healthiest meat you can eat?
"Choosing leaner cuts of meat such as poultry and turkey can help us to reduce our saturated fat intake. Look out for reduced fat versions (for example, 5% fat mince) and go for cuts with the skin removed where possible.
Red meat can form part of a healthy diet, however it is recommended not to eat more than 70g per day. For context, this is equivalent to a piece of steak about the size of a pack of cards".
We'd recommend looking out for grass-fed beef or organic meat, which is thought to contain higher levels of antioxidants, vitamins and minerals than that of grain-fed animals.
What meats should you avoid?
"Red and heavily processed meat (bacon, salami, some ham, sausages and burgers) are high in saturated fat, and often contain high levels of salt too. Eating a lot of these types of meat is associated with an increased risk of cardiovascular disease, bowel cancer and weight gain. Therefore it's important to be aware of portion size and the frequency with which you're consuming.
If you eat a lot of meat, replacing it with some plant-based proteins throughout the week can help us to stay within the advised limits for our health."
Meat intake during pregnancy
"It's important to consume adequate iron for fertility, and for a healthy pregnancy. An inadequate iron intake can affect ovulation, reducing the chances of becoming pregnant. Meat is the best source of heme iron, the most absorbable form of iron and, in moderation, can form part of a healthy and balanced diet to support iron levels in women of childbearing age.
However, women who are trying to conceive are also encouraged to reduce red meat intake, so it may be advisable to limit this type of meat to a couple of portions, per week. Oily fish, which contains omega-3, plays an important role in the fertility diet. Including one to two portions of oily fish per week is advised for fertility, in addition to the inclusion of white, lean meat, and plant-based protein options too.
Pregnant women should avoid raw or undercooked meat, pate, liver and liver products."
How we test meat boxes
At the Women's Health Lab, our panel of 10 testers tried a selection of meat box delivery services. They were looking for excellent customer service, a varied selection, great value for money and super tasty produce.
Based on this criteria, these are the best meat boxes in our tests...
This content is created and maintained by a third party, and imported onto this page to help users provide their email addresses. You may be able to find more information about this and similar content at piano.io