We earn a commission for products purchased through some links in this article.
16 Best Maternity Clothes and Brands For Trendy Bumps
Feel great in maternity brands for a stylish nine months, and beyond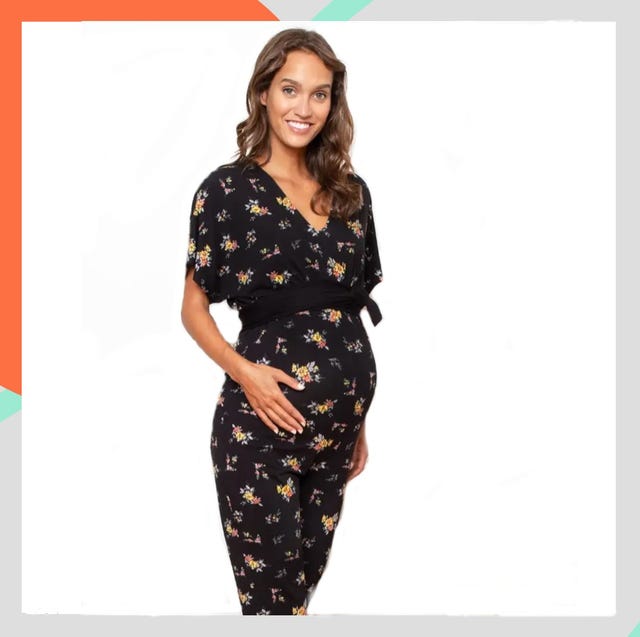 If, like most of us, you've spent a disproportionate amount of time in leggings and joggers over the past year or so then you won't be a stranger to an elasticated waistband. Maternity dressing – sometimes mistaken for 'sizing-up or replacing structured with stretchy is SOO much more than that. We're talking about stylish clothes that are specifically designed for a pregnant silhouette with comfort and practicality in mind.
Your changing body shape is a joy to behold and while you might have days when you just feel like staying in bed (don't worry, we've got your maternity nightwear sorted, too) on the days where you're getting stuff done, you'll need a versatile wardrobe that comfortably lets you look, and feel your best.
What should I look for in maternity clothes?
Look for softness (no waistband cuts or rubs), a wider (or adjustable) back and high waists that sit above your tummy (or ones designed to stay put comfortably below). Choose dresses that skim your bump or go for body-con - a confident, flattering choice for mums-to-be. These are clothes that'll grow with you – and get their fair share of compliments.
What maternity clothes do I need?
Let's start with the basics – the foundations of feeling good – a maternity bra and some good maternity knickers are essentials.
Adapt your wardrobe to your style. Be realistic. If your vibe is energetic and sporty you're not suddenly going to default to wearing earthy boho dresses and Birkenstocks every day.
A few good pairs of maternity trousers, long-length tees on rotation and some relaxed maternity blazers or chunky knits normally suffice if you need to feel 'put together'. We do love a dress though. Oh, and great maternity gym leggings are worth every penny.
While you're figuring out your new figure there is always the option to rent, not buy. Especially if you're not looking to downgrade your dressdrobe just because you have a baby in tow. 'After having my son none of the clothes I owned felt like clothing I would normally wear yet I still needed loose fitting clothes that I could breastfeed in and styles that wouldn't rub against my c-section scar,' shares Lyndsay Mason, founder of postnatal fashion rental company For The Creators. 'My maternity clothes were stretched and baggy but I resented spending more money on clothing I wouldn't be wearing for a long period of time.' Out of this frustration her rental service for mums was born. Today, this means you can borrow fashion-y dresses, dungarees and button-through tops, from maternity and non-maternity brands (that still work for bumps and breastfeeding). Borrow for 7, 14 or 21 days when Pj's, leggings and oversized jumpers aren't your vibe. They also offer a replacement service if your rental doesn't fit.
When should I start wearing maternity clothes?
As early in your pregnancy journey as you want. Most mums-to-be start seeing their shape change from about 12 weeks, second and third pregnancies can show even earlier.
Look for pieces that will give you more mileage postpartum. Think a nursing bra you can use after you stop feeding or a relaxed shirt or a smocked top that you wear to float through summer, whatever your body shape.
Some of us find it very hard to part with our trusty maternity jeans after giving birth, and that's perfectly fine. You can resume business-as-normal in the wardrobe department as soon as you're ready, there's no rush at all.
Our edit of maternity brands will make you excited to dress for first, second, third and fourth trimester – boosting your comfort and confidence now, and after your baby arrives. Let's get shopping!
Tip: Shop your pre-pregnancy size when you shop maternity clothes. Brands take into account growing bumps with clever design details so you shouldn't need to size up.
16 Best Maternity Clothes & Brands
This content is created and maintained by a third party, and imported onto this page to help users provide their email addresses. You may be able to find more information about this and similar content at piano.io